Sarah Boddington (AUS)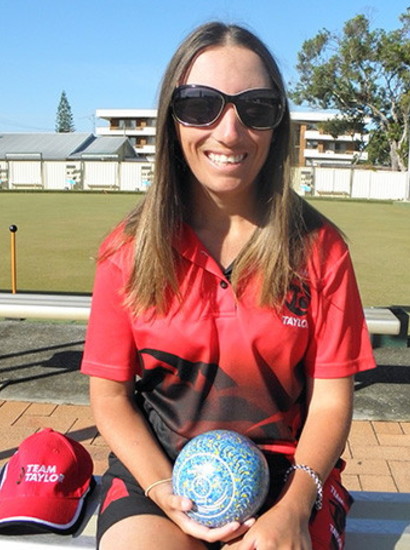 "Since taking up the game at age nine in 2002 I have used no other bowls but Taylors; that speaks for itself."
What Country/Region/Club/Team do you play for?
Tuncurry Beach, New South Wales & Australia
When and why did you start playing bowls?
2002 – I was watching my dad for a few months after he started playing and then I thought I would give it a crack and I somehow became addicted to the game. It was also at a time when the boys who I played soccer with, all of a sudden shot up and dwarfed little me making running out onto the pitch a scary experience. Lawn bowls seemed a much safer bet.
Which Model(s), Size of Taylor Bowls do you enjoy playing with and why?
SRV's – Size 2
They were a natural progression from earlier Taylor models, all of which I have had the utmost confidence in.
Are there any particular stories/incidents you would like to tell us about that relate to your bowling?
At my very first game of my first NSW Indoor Singles at age twelve I overheard the marker of my rink whisper to my opponent "Geez, you've got it easy; look who you're playing against; a little schoolgirl".
Two hours later, my opponent threw her bowls in her bag and stormed off the green and out of the building.
She incurred a $100 fine for not marking the next game as a first-round loser.
In the bowling world who do you most admire and why?
Australia – Karen Murphy, New Zealand – Jo Edwards.
They are both World Champions who have been at the top for nearly two decades.
They are the examples who I strive to emulate.
And on top of that, they are also really nice people.
Do you have a favourite
a. Film
Titanic
Marley & Me
b. Book
Harry Potter Series
c. Song
The Flower of Scotland (truly, I'm not crawling)
d. Football team (Rugby)
Wallabies
Waratahs
Brumbies
e. Actor
David Tennant
Leonardo de Caprio
Johnny Depp
Angelina Jolie
Brad Pitt
Major bowling achievements:-
2019
Just won ninth District Singles Championship this decade.
Only loss since 2010 was the final in 2012.
Sarah has been told it is some sort of a record!
All nine wins were with Taylor Bowls:-
2010 – 2012 Redline XTLs
2013 - 2014 – SRs
2015 – 2019 – SRVs
2018
Winner Australian Sides Championships
Winner NSW Indoor Singles
Winner NSW State Carnival
Runner-up Australian Open Fours
Runner-up NSW State Pairs
2017
Winner Best Rink Australian Sides Championships
Achieved 100 test games for NSW
2016
Quarterfinalist NZ National Singles
Winner Australian Sides Championships
Winner Aust. NTC vs Hong Kong Series
2015
Winner Australian Sides Championships
Winner NSW U25 State Singles
Winner Silver Nugget Invitation Singles
Semifinalist Australian Indoor Singles
2014
Winner Australian Sides Championships
Runner-up Black Douglas Master Singles
Winner NSW U25 State Singles
Runner-up NSW Champion of Champions Pairs
Winner NSW State Fours
2013
Winner NSW State Singles
Winner Silver Nugget Invitation Singles
Semifinalist Golden Nugget Invitation Singles
Winner Australian Sides Championships
Winner Best Rink Australian Sides Championships
2012
Winner Australian Sides Championships
2011
Winner NSW State Singles
2010
Winner NSW Women's State Carnival
Winner NSW U18 State Singles
Winner NSW U18 State Pairs
Named NSWWBA '2010 Junior Bowler of the Year'
2009
Winner Australian Junior Pairs
Runner-up Australian Junior Fours
Winner Australian Junior Championships
Named NSWWBA '2009 Junior Bowler of the Year'
2008
Winner NSW U18 State Pairs
2006 – 2017
Winner of over 50 Club, Group and Regional titles
Back to Team Taylor Home