Katelyn Inch (Aus)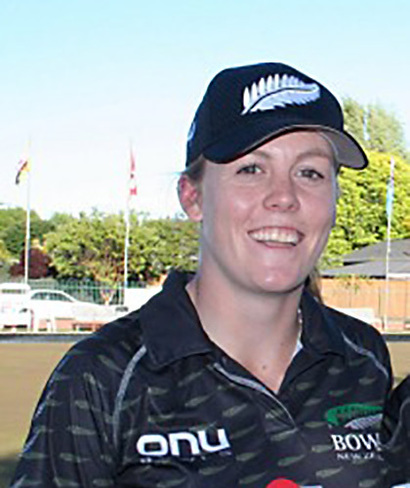 "I am proud to be on team Taylor and stoked that I have a bowl I am comfortable playing with in any position of a team. I am excited to continue using Taylor Bowls as I endeavour to make the
Commonwealth Games team in 2018."
Which model(s)/size of Taylor bowls do you enjoy playing with and why?
I enjoy playing with my Taylor Redline SR's (size four). I love them because they are a quality bowl and always consistent in any condition or green speed. I have used them for 6 years now and they have always been a pleasure to play with. Excited to keep using them in Australia.

Where were you born? Christchurch, NZ

What country/region do you play for? New Zealand, Canterbury

Are you a member of any bowling associations?
Yes: Oxford Club Bowls, Canterbury Bowling Club & Broadbeach.

When and why did you start playing bowls?
Started in 2009 when I was 13. Grandad and Dad played at Oxford so I joined up there and gave it a go. Played during summer at school between other sports and safe to say I fell in love with the sport. I have continued playing today because I enjoy meeting new
people and challenging myself to be better.


In the bowling world who do you most admire and why?
I most admire Mike Kernaghan & Barrie Lester. They are both fantastic bowlers and work hard at what they do. Mike is my coach and offers me so much knowledge and it is an honour getting to
represent NZ at the same time as him. I watched Barrie play at the World Champs, I think he is an outstanding lead, great person and I would aspire to play just as good.

Do you have a favourite – film, book, song, football team, actor, etc. It can be more than one if you like.
Favourite movies are Fast and Furious series.
Favourite sports teams are the Crusaders & Southern Steel.


Major bowling achievements:
PLAYING ACHIEVEMENTS:
International:
2016 World Championships Fours - Bronze
2016 BPL Blackjacks Team
2016 Trans Tasman - Gold
2016 Six Nations Fours - Gold
2015 Asia Pacific Triples - Bronze
2015 Asia Pacific Fours - Bronze
2015 U25 World Mixed Pairs - Silver
2014 Captain of New Zealand U18 Trans Tasman Team
2013 Member of New Zealand U18 Trans Tasman Team
National:
2015 National Open Womens Pairs - Silver
2015 National Open Womens Fours - Bronze
2015 NZ National Club Championship Pairs - Silver
2015 National Intercentre - Gold
2014 Selected by BNZ for South Island Rep team
2013 NZ Secondary Schools - Gold
Regional:
2016 Young Player of the Year
2016 North Canterbury Sportswomen of the Year
2016 Canterbury Womens Pairs - Silver
2015 Canterbury Team of the Year - Intercentre
2015 Canterbury Most Consistent Player of the Year
2015 Zone 5 Regional Pairs Pathways - Gold
2015 Canterbury Most Improved Player of the Year
2015 Canterbury Womens Fours - Gold
2015 Canterbury Womens Pairs - Gold
Back to Team Taylor Home