Cass Millerick (Aus)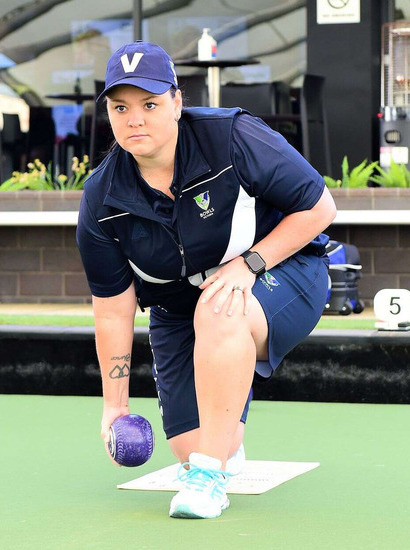 "Taylor Bowls are the best bowl I have played with."
Which model(s)/size of Taylor bowls do you enjoy playing with and why?
I play with Taylor SRV size 3. I absolutely love playing with this bowl as it holds with weight but swings on fast greens.
What country/region/club/team do you play for?
Australia/Riverina/Moama/Moama Steamers
When and why did you start playing bowls?
I started playing bowls between the age of 10-11. I started bowls with my sister Bee (Bolivia) and my dad (Frank) because it was a very different sport to others I have played. Its a family game, It's competitive and fun all at the same time. We were so lucky to have started all together as a family.
Are there any particular stories/incidents you would like to tell us about that relate to your bowling?
I love meeting new people and getting the chance to seeing my friends all around the world. You're never to old or young for Lawn Bowls.
In the bowling world who do you most admire and why?
I admire Lynsey Clarke. Lynsey has a great personality and performance on and off the bowls green. She is always willing to help any one.
Do you have a favourite – film, book, song, football team, actor, etc? It can be more than one if you like.
Rugby team is the Melbourne Storm.
I love country songs (Luke Bryan is my favourite)
Horror movies are the way to go
Love Robbie Williams off Mrs. Browns Boys!
Cass's major bowling achievements:
2011- Australian Under 18's Pairs Winner
2013- Queensland State Ladies Fours Winners
2014- Australian Open Mixed Pairs Runner Up
- Queensland State Ladies Fours Winners
- Queensland State Ladies Triples Runner Up
2016- Queensland State Triples Winner
- Queensland State Pairs Winner
- State Champion Of Champion Singles Winner
- State Pennants Winners (Broadbeach Bulls)
2017- Australian Sides Winners
2018- Australian Open Ladies Fours Bronze Medallist
- Premier League A Grade Winners
- QLD Champion of Club Champion Fours Winner
2019- Queensland State Ladies Fours Winner
2020- Queensland State Ladies Pairs Runner Up
- Queensland State Fours Runner Up
- Queensland State Mixed Pairs
- State Pennants Winners (Broadbeach Bulls)
2021- Queensland State Ladies Pairs Winner
- Queensland State Triples Runner Up
2022- Australian Championship Pairs Winner
- Victorian Champion of Champion Singles Winner
Back to Team Taylor Home